Day 2 :
Keynote Forum
University of Colorado & STILMAN Advanced Strategies, USA
Time : 09:30-10:10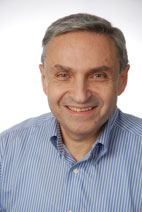 Biography:
Boris Stilman is a Professor of Computer Science at the University of Colorado Denver, USA and the Chairman and CEO of STILMAN Advanced Strategies, LLC, USA. In 1972-1988, in Moscow, USSR, he was involved in the advanced research project PIONEER led by a former World Chess Champion Professor Mikhail Botvinnik.
Abstract:
This study emphasizes recent results of my research related to the primary language of the human brain and its applications. Our hypothesis is that the primary language is the language of visual streams, i.e., it is based on mental dynamic images (movies), visual streams, so that those streams drive reasoning, reading and writing, translation and serve as a different form, the foundation, for all the sciences (following von Neumann suggestion). Note that, according to this hypothesis, the primary language is not a language in mathematical sense. This study is interested in revealing the detailed nature of the primary language by investigating ancient algorithms, crucial for development of humanity. It is likely that such ancient algorithms are powered by the primary language directly and thus, utilize symbolic reasoning on a limited scope. Our contention is that the hypothetical Algorithm of Discovery (AD) must be one of such algorithms. Yet another such algorithm is Linguistic Geometry (LG), which is a type of game theory, that generates detailed intelligent courses of action (predict behavior) of all sides in a conflict with accuracy exceeding the level of human experts. In a way, we use a Rosetta Stone approach by investigating three items together, the primary language, LG and the AD.
Keynote Forum
Fast Future Publishing Ltd, UK
Time : 10:10-10:50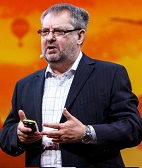 Biography:
Steve Wells is a global futurist, experienced speaker, strategist and facilitator. He helps delegates and clients understand the key future factors driving innovation, growth and disruptive change, highlighting the new thinking and business models being enabled by exponential technologies such as AI, immersive technologies like augmented and virtual reality and hyper-connectivity. He has a professional background as an independent Strategy Consultant and Researcher and as a Strategy Development Manager in Pfizer's UK business where he worked across C-suite and Senior Manager Level to lead and facilitate the company's strategic planning process.
Abstract:
Almost every new technology arrives with a fan base claiming it will revolutionize life on Earth. For some, AI is just one more in a long list of over-hyped technologies that won't live up to its promise. At the other end of the spectrum are those who believe this could literally be the game changing invention that reshapes our world. They argue that humanity has a directional choice: Do we want the transformation to enable an unleashing of human potential, or lead us towards the effective end of life on the planet? We believe AI is like no technology that has gone before, but we are far too early in its evolution to know how far and how rapidly this Fourth Industrial Revolution powered by smart machines might spread. What is clear is that, in real terms, although we are only in the very early stages of the AI revolution, we can already see that it has the potential to disrupt every aspect of our private and public lives. Indeed, AI is already having a dramatic impact across everything from medical diagnosis and construction to government decision making, financial services, and even dating sites. As the pace of development accelerates and AI's potential becomes a little clearer, so the warnings grow ever-stronger about the threat to jobs and privacy and the risks of humanity becoming enslaved by the machine. In a fast-changing world with a rapidly changing reality, it is no surprise that as individuals, businesses and even governments, we are often only planning for the next month, quarter, or year. However, the far-reaching and seemingly limitless potential applications, impacts and implications of AI demand that we look more deeply into the opportunities and challenges that an AI-enabled future might bring. So the question is how can we ensure that we go beyond genuine stupidity in preparing for artificial intelligence?
Keynote Forum
IMPACT Institute for the Digital Economy
Time : 11:00-11:40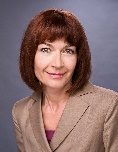 Biography:
Mihaela Ulieru is an expert in distributed intelligent systems. For her scientific work which has positively impacted citizens in emerging and advanced economies including Asia Pac, North America and Europe she was awarded, among many others, the "Industrial Research Chair in Intelligent Systems" and the "Canada Research Chair in e-Society" and was appointed to numerous boards among which the Science Councils of Singapore, Canada and European Commission and to the Global Agenda Council of the World Economic Forum. She founded two research labs leading several international large-scale projects, among which: Organic Governance, Adaptive Risk Management, Self-organizing Security, Living Technologies and Emulating the Mind.
Abstract:
Recently Distributed Ledger Technologies (Blockchain) entered this space threatening to disrupt the big data industry through innovative initiatives such as Endor.com, Numerai.io or Matrix.io. These new kids on the (AI) block promise to democratize analytics through Blockchain and become, as in the case of Endor - the "Google of predictive analytics." As opposed to Google however, which is a centralized platform, Endor promises a decentralized protocol called "Endor.coin" that enables any member of the community to contribute to its improvement and be rewarded in tokens, which in turn can be used to answer questions from an ever-enhancing prediction engine. A protocol enables something. Just like TCP/IP is the protocol that enables peer-to-peer exchange of files, and Blockchain is the protocol that enables the peer-to peer exchange of assets, Endor is proposing to be the protocol for the Internet of Predictions, enabling anyone to improve it by plugging in new prediction engines! Just like anyone can build new applications on Ethereum, anyone can use Endor to create new businesses, such as new blockchain enabled insurance models, predictive e-Health and personal medicine, optimized services for small businesses seeking to better use existing advertisement services, innovative marketing models on blockchain, and so on. The key to all of this will be building a vibrant community of users and contributors. On centralized platforms, community happens through "if you build it [the platform], they will come." On blockchain, the motto is "if they come, they will build it", and bringing contributors is done by giving them tokens. We typically think of such tokens as securities to be liquidated, but Endor is promising a new method: the tokens (EDR) will not be liquidated but rather act as a utility to access the overlaying services, such as data or predictive models. Endor plans to build its capabilities by committing 60% of all tokens to contributors: entrepreneurs (called "catalysts") that will build businesses using the platform will receive 25%, researchers that will build the algorithms used in Endor's library will receive 15%, and strategic partners such as Bancor and ORBS that will maximize distribution of the Endor coin will receive 20% of the total amount of tokens. A crucial factor to the success of such decentralized endeavors is an appropriate allocation of tokens that ensures the right mix of stakeholders in the ecosystem. The creation of analytics engines on blockchain is a revolution in the way we think about and leverage big data. Using blockchain, a company like Endor can address many of the ills plaguing centralized data platforms, by ensuring: (1) data sovereignty, letting users choose to provide their data in exchange for tokens; and (2) accountability, giving full transparency to the user as to what data and what engine was used to make a prediction.